RLS Group is Recommended for Advertising and Marketing
Thanks to Village Bread Cafe and Kelly Harris for the great review and recommendation for advertising and marketing services!
RLS Group is a full-service advertising and marketing agency offering branding, digital marketing, advertising, social media campaigns, public relations, and video production for Jacksonville and the North Florida area.
View the recommendation here.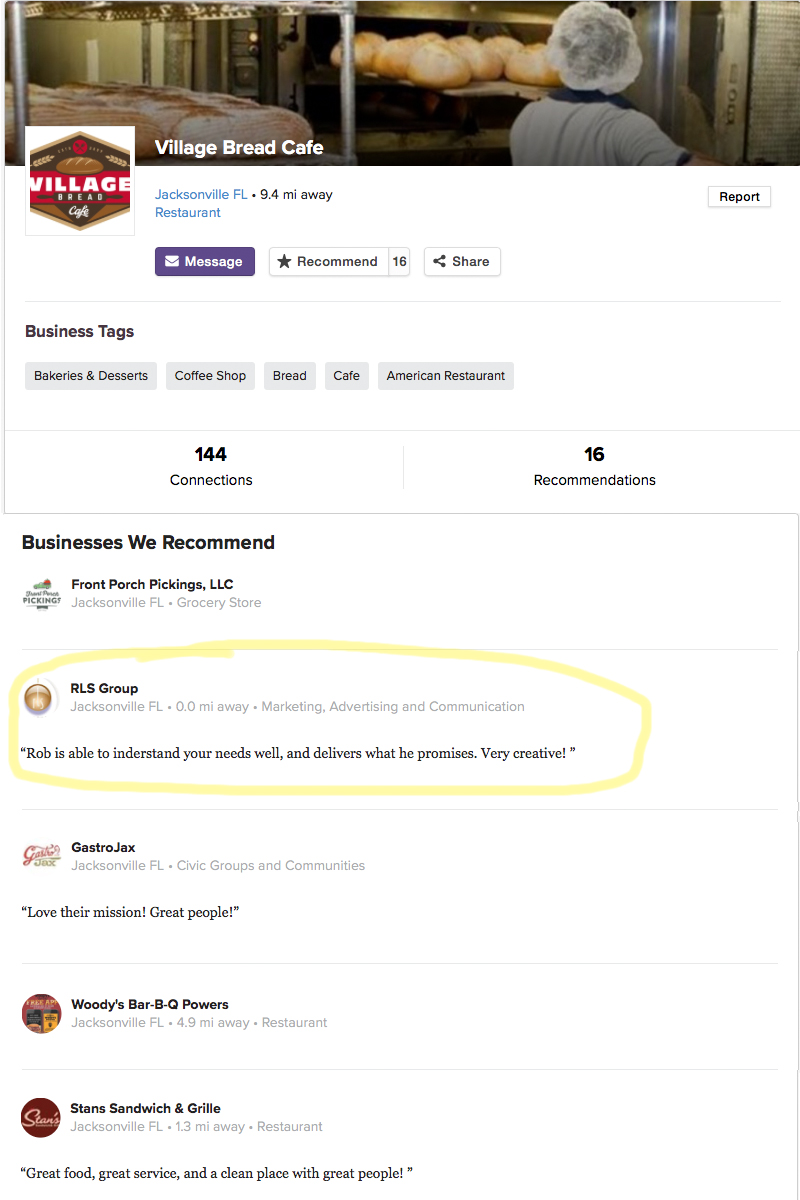 Effective business advertising and marketing involves using a variety of different strategies to get the attention of potential customers. The internet has opened up many opportunities for businesses, including ways to market to people who have never heard of you before.
Business owners and entrepreneurs want to succeed, but the path to good business can seem like a maze at times. Because of that uncertainty, it's important for people who wish to start a new company look into all their options and make decisions about things like how they are going to market themselves before they spend money on anything.
It doesn't matter if you started your business three years ago or yesterday, there are effective advertising and marketing services available for those looking for the best way to get in front of customers.
If someone wants to start an online store, there are online advertising services that can help them do so by getting their business in front of browsers via Google or other search engines.
Advertising and Marketing Services for Business
Paid Advertising
It's important for companies to be able to generate new leads, and these types of services can help with everything from setting up Google Adwords campaigns that cost as little as $3 per day all the way up to pay-per-click ads that are more expensive but yield better results.
With the right kind of service they can make sure their business name, website address, or other information about their company appears next to the search term they choose in online searches. This is a great opportunity for businesses that want to generate new leads.
Mailing Lists
Mailing lists are also an extremely effective way of letting people know about your business's products and services. When someone subscribes to a mailing list they receive emails from you automatically until they unsubscribe. Being able to send out email blasts regularly can be very helpful with getting customers informed on special offers or discounts or receiving free giveaways like coupons and samples of products, which may lead them to become paying customers later on down the road.
Many companies offer inexpensive mail outs but it's important that anyone who wants one uses reputable providers because if the wrong information into a database it can result in spam complaints.
Listservs and Newsletters
Another effective way to advertise a business is by using listservs or through newsletters that are posted online. In addition to offering good prices, these types of services allow people to pay for additional features like stats on how many people have seen the post so they can make sure they're getting their money's worth.
If someone has a blog associated with their business, they can also sign up for an RSS feed and have the info automatically listed in feeds throughout social media sites like Facebook and Twitter. There are many ways that businesses can use this type of service effectively to reach customers who already know about them or may be interested in what they sell in the future if only they knew about it.
Marketing a Business Online
In addition to using general business advertising and marketing services, businesses can also use their website to generate more interest in what they have to offer. Having a good informational site will give them the chance to distinguish themselves from competitors and highlight the ways that they're better than those who are offering similar goods or services at competitive prices.
This type of information is helpful if someone has a brick and mortar location as well as one online store because people may hear about you through one channel but not the other and having both can be useful for generating sales leads.
Any advertisements for products or services should also make sure that they don't waste any space on their sites by including too much text with not enough pictures . This is one reason that many businesses choose to use products like posters to spread their information across.
These days it can be very easy for someone to print out a poster with the info they want on it and hang it up somewhere where customers will see them when they walk by. A good business marketing service will provide everything you need in order to make sure new leads know about what you have to offer as well as giving anyone who's already looking at your site an idea of how effective your company really is.
Good advertising and marketing services deliver creative ideas that help businesses reach the audience they're trying to get in front of. Unique online tools like websites, blogs, social network sites, emails, search engines, email listservs and more are all important ways of letting people know about the products and services that you offer.
The right marketing services can help anyone in business grow their market share by making potential customers aware of what they have to offer. In today's competitive marketplace, knowing who you're trying to reach is only part of the battle – getting your message across effectively is another critical key to success.