With today's fast-paced business environment, it's more important than ever to constantly develop new markets and new products. Changing technology and consumer demand requires companies to update and add new product lines to their existing market strategy.
Although often planned, sometimes fate steps in to challenge (and reward) the best entrepreneurial minds.
Here's how Lance, Inc. (yes, those crackers that you love) got their start.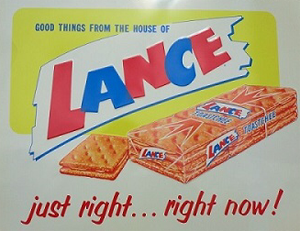 The story of Lance began in 1913 when Philip L. Lance, a coffee bean broker in Charlotte, received an order of 500 pounds of raw peanuts instead of coffee beans for his customers. The time it would take to exchange the peanuts via the train from Greenville, SC, proved too long for Mr. Lance to wait; he was stuck with the peanuts.  Mr. Lance and his wife, Nancy Henning, made the best of the situation by roasting the peanuts on their own kitchen stove. Mr. Lance began selling the peanuts on the streets of Charlotte for a nickel a bag. The peanuts were an instant success, so he needed to come up with another product to sell. The Lances began crushing roasted peanuts to make peanut butter. Mr. Lance discovered that customers wanted snacks that were fresh, delicious and portable.
In 1915, Mr. Lance invited his son-in-law, Salem A. Van Every, to join him in forming a new company, Lance Packing Company. Shortly after inception, inspiration struck the Lances and their daughter, Mary Lance Van Every, when they decided to spread their creamy peanut butter on a saltine cracker. The Lance peanut butter sandwich cracker was born!
New market and product development strategies requires and open mind and constant market research as to what consumers are wanting. Never stop thinking out of the box- your next big product idea could come when you least expect it!
Rob Storey